Recently we went on a fantastic field trip for our little baker, and I wanted to share how fun it was. One of the reasons we have fallen in love with homeschooling is the flexibility that we have had to experience a bunch of fun field trips with other homeschool friends. We have learned so much and experienced so much in just one year. Until we started homeschooling, I had no idea how many places offered fun enrichment things for kids. If you are looking to add some fun trips to your homeschool, you may want to check this one out.
M and some of her friends became junior bakers at Panera Bread. If you have a Panera nearby, it is worth checking out. They have a program called Bakers-In-Training. Many scout groups take advantage of this program because it aligns with badges to earn but we were able to do it as a homeschool group.
Details
For kids ages 5-12
For groups of 10-15 kids
Parents can participate
Kids get to keep their baker's aprons & hats
Participating Panera Bread locations only
Classes have to be scheduled 3 weeks in advance
Main Events
We got a behind-the-scenes tour. The kids got to see walk-in coolers and freezers, how the drive-through works, where they prepare food, and more. Key things were pointed out such as ovens, baking racks, prep areas, etc. It was fascinating getting to learn about how a bakery cafe is run behind the scenes. M's favorite part was waving to a customer in the drive-through from the inside. Silly girl.
Once the tour was over, each kid was ready to become an official baker. They each received a cloth baker hat & apron which they got to keep. They colored a picture and then got to decorate a cookie with frosting and tons of toppings. Of course, they got to take home their cookies as well.
After the cookies had been done, each child received plastic gloves. A bit of flour was placed on the table in front of them, and then they received their very own French baguette roll of dough. Once they had the dough, they were able to stretch it and shape it. At that point, it was set on a baking rack with each child's name and cooked. When the baguettes were all done, each kid got to take the baguette that they made home. M even shared it with me. So yummy!
M also received a certificate with her name on it that she was now a Panera Junior Baker.
Super fun right?! The beautiful thing about this is that it was just a few hours and planned out ahead of time so we could incorporate our regular lessons at home and then go for this outing all in the same day. Let me know if you try this trip out. I am not affiliated with Panera, so all of the above details were just our own experience. I encourage you to get all of the details at your Panera if you decide to try this out as it may be different from location to location.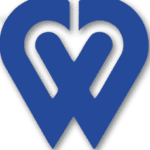 Latest posts by Jennifer L.
(see all)