Just in time for St. Patrick's Day are this ever-so-fun and an easy-to-make green pot of gold slime! We all know how fun slime is, right? It really is not just for kids, but we will never say that haha!
My two youngest kids LOVE slime, making slime, mixing and mashing slime, and so on. My daughter actually used to make slime and she rented a table at our local bazaar two Christmas's ago and she sold out in the first two hours! Her slime was such a huge hit! She was so proud and of course, so was I!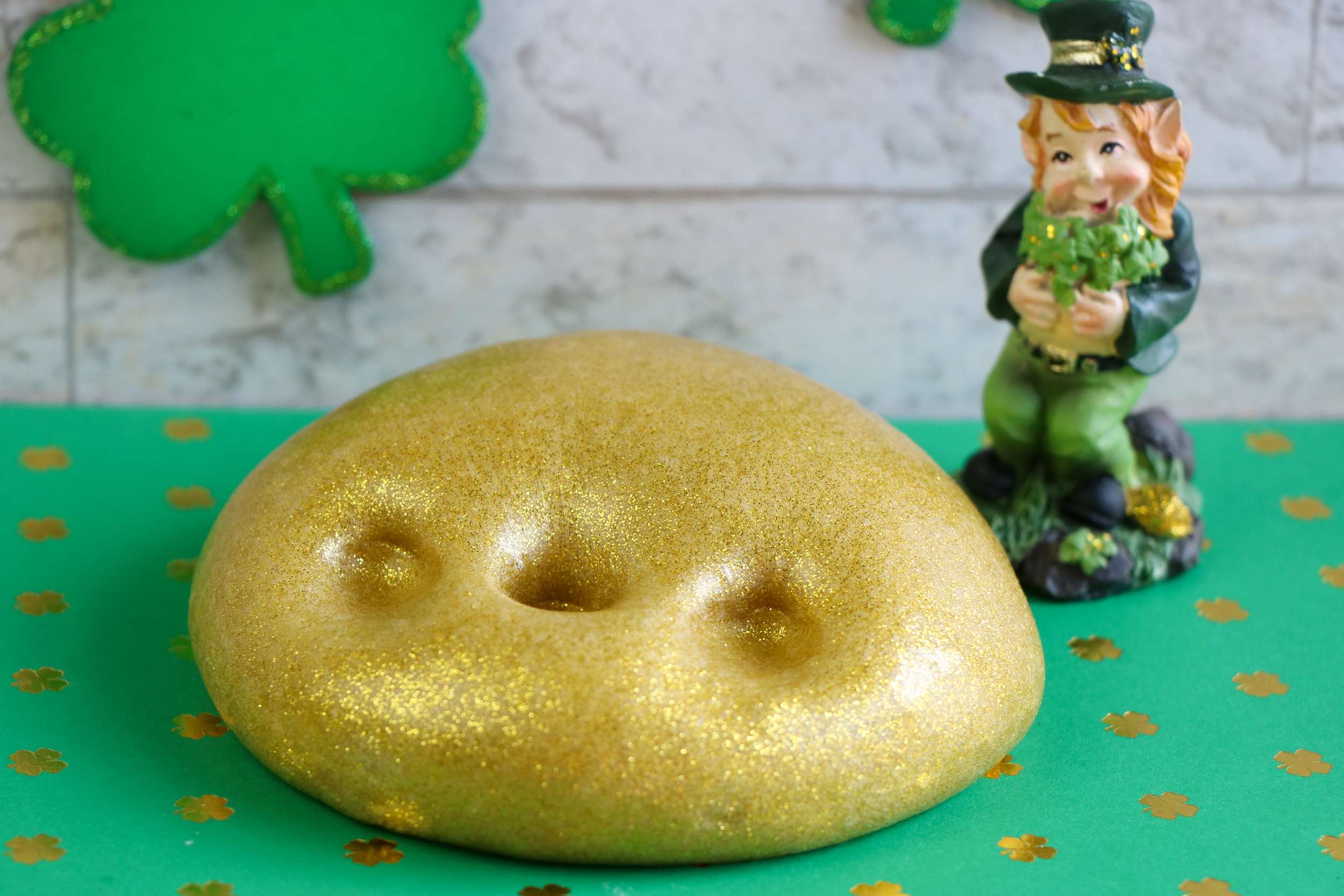 The older my daughter gets, the less she now makes slime, but she does still buy it from time to time because it is a good sensory play for her. It soothes her and calms her down when she plays with it. So, I imagine, it has that same effect for most people. Another arts and crafts that you might want to check out to help calm your child are my sensory bottles!
This Pot Of Gold Slime For St. Paddy's Day is the perfect slime for any child. You can even make it for them and have it on the counter for them after school as a nice surprise. I have done this before and my kids sure appreciate the gesture! Kids are NEVER too old for their mom to make them something!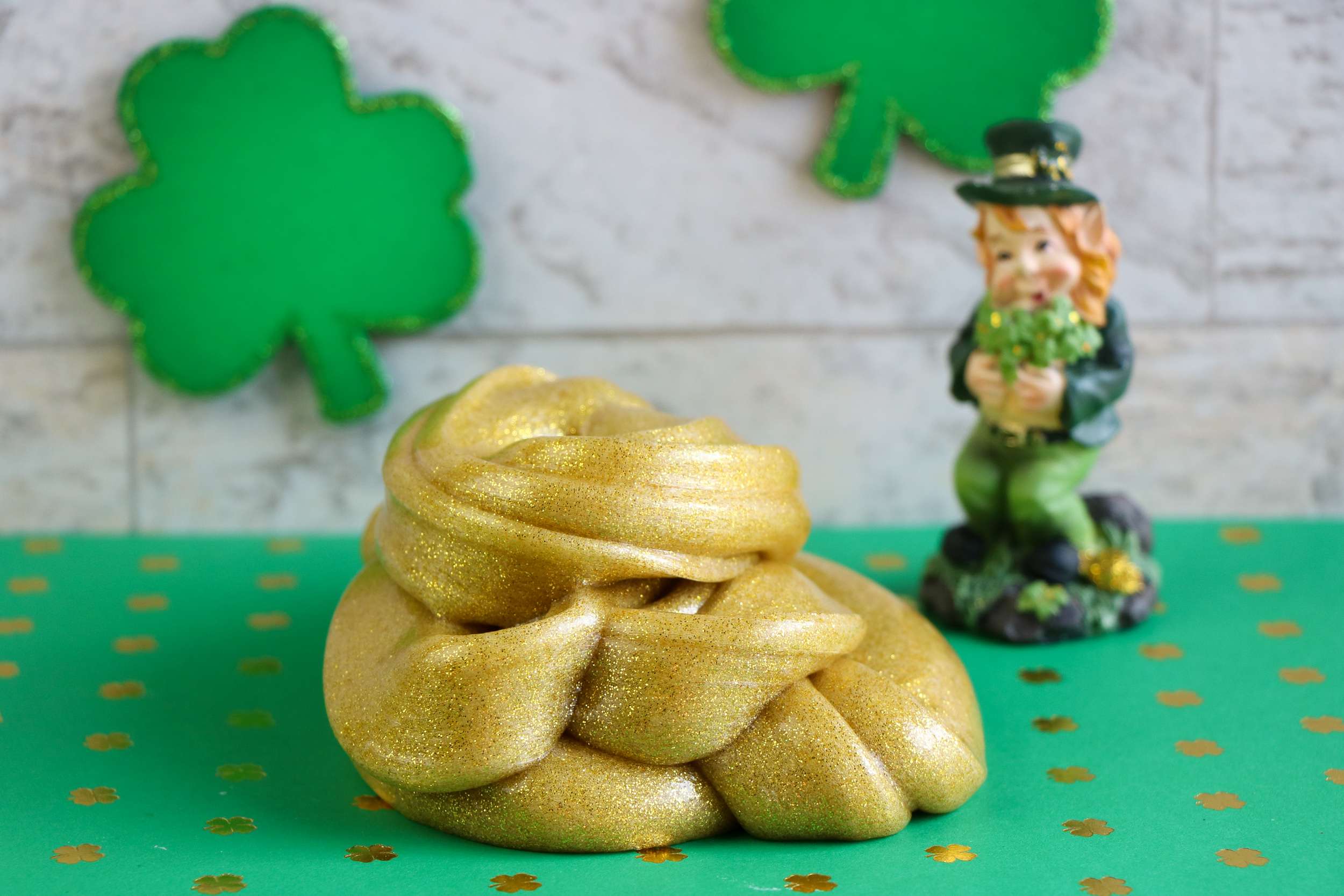 Pot Of Gold Slime For St. Paddy's Day!
Below, you will find the easy slime recipe for this pot of gold slime for St. Paddy's Day!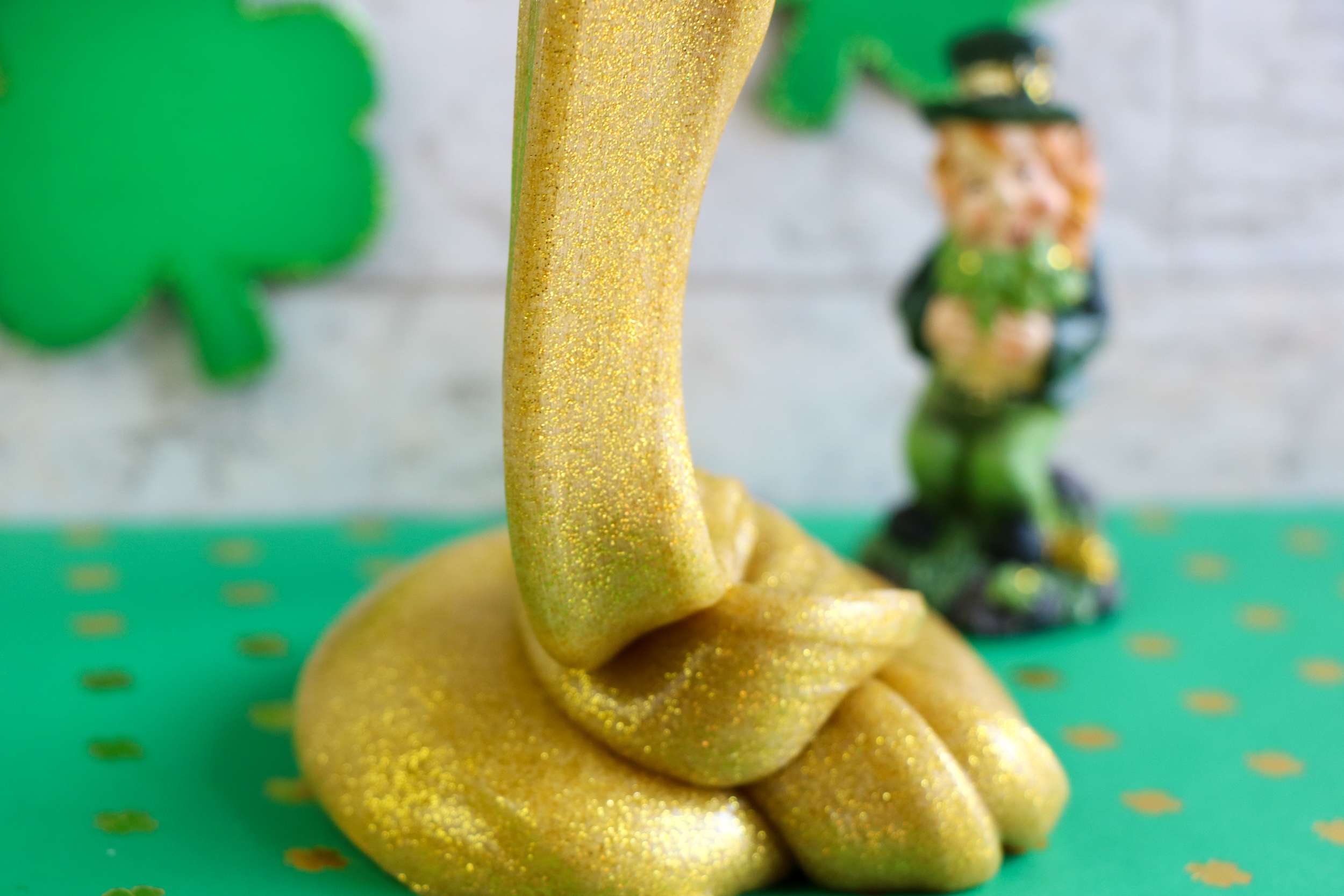 Pot Of Gold Slime For St. Paddy's Day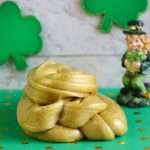 A fun, shimmery slime just in time for some St. Paddy's Day fun!
Large Mixing Bowl
Mixing Spoon
1 6 oz bottle Elmer's Glue in gold glitter
1/2 cup warm water
1/2 tsp baking soda
1 tbsp contact lens solution ((containing boric acid), for each batch)
Empty the glue into a large bowl.

Fill the empty glue bottle about ⅓ full with warm water (about ¼ cup) and seal with the lid. Shake well to combine the remaining glue with the water. Pour into the bowl with glue and stir to combine.

Add the baking soda to the glue and stir to mix thoroughly

If you are adding additional glitter, food coloring, scents, or confetti, stir into the glue mixture before adding the contact lens solution.

Add contact lens solution to the glue mixture and stir well. (Note: regular glue will require less contact lens solution than glitter glue. Add the contact lens solution slowly, mixing between additions, and add only enough to bring the glue together into a soft ball.)

Remove the slime from the bowl. The slime will be sticky. Begin to play with the slime, stretching or kneading it as you would bread dough, to bring the slime together. The slime is ready when it is no longer sticky
Best if stored in an airtight container in the refrigerator when not in use.
So much fun! Let me know if you decide to make this Slime for St. Paddy's Day because I want to know how it turned out for you! And, if you are looking for more fun St. Patrick's Day craft and treats for your kids, click that link!
PIN IT