Have you ever played with cloud dough? I have and my kids have too. We love it because it is SO soft and it feels so good in our hands and is perfect for sensory play! I wanted to make it at home because going out to the store right now just isn't something we want to be doing too much of.
Yes, I know you can buy it online but waiting for it to be shipped to us is crazy. So, we chose to make our very own homemade sensory play cloud dough and it turned out SO good. Probably just as good (if not better!) then they store-bought cloud dough! For reals 😉
Cloud dough is silky feeling and can be molded very easily. It also can crumble easily too but is simple to clean up! Just wipe it up with a sponge or wet cloth, you can even sweep it up. Though I prefer wiping it up with a sponge the best 🙂
Sensory Play Cloud Dough Recipe
*This post includes my affiliate links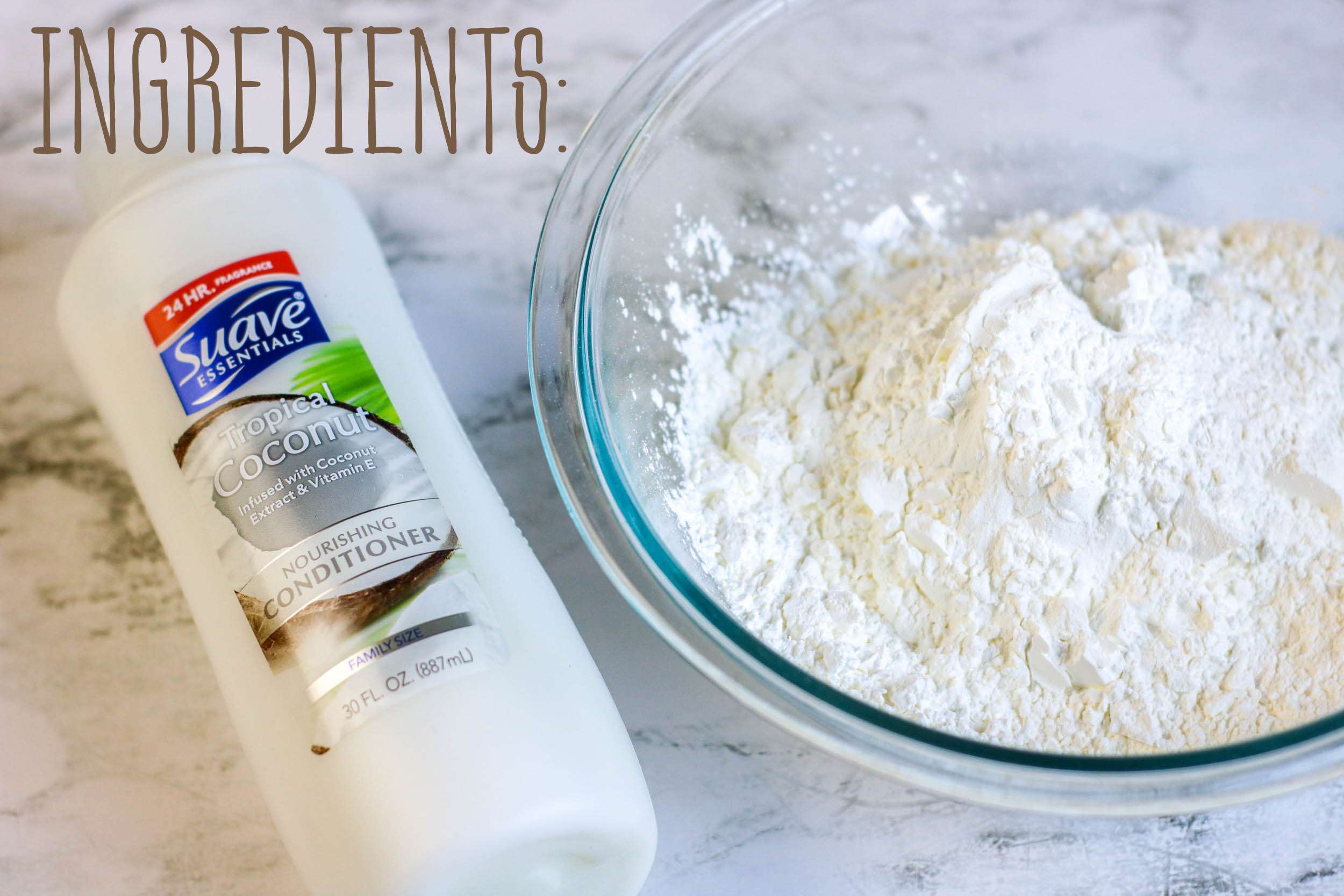 Below, is the easy recipe for Cloud Dough! It only has TWO ingredients!
What You Will Need:
*3 cups cornstarch
*1 cup inexpensive hair conditioner (the color of the conditioner doesn't matter)
*Airtight Container (To store the cloud dough in)
Directions To Make The Sensory Play Cloud Dough:
Mix the cornstarch and hair conditioner together, pressing with the back of a spoon, until it creates a consistent sandy look.

Test the cloud dough by grasping a handful. If the dough is sticky, add a small amount of cornstarch and work it into the mix. If it is too dry, add a little bit of conditioner and work it in.

Place cloud dough in a rimmed container for playing.

Store cloud dough in an airtight container at room temperature.
You can add the cloud dough to a plastic bin (sensory bins!) and turn it into fun, sensory playtime! Add toys like cars, marbles, toy dinosaurs, blocks, etc., to make playtime with cloud dough more fun! Or, you can do what these little ones did and make an ice cream stand! So cute!
How Long Does Cloud Dough Last?
As long as you store the cloud dough in an airtight container, it will last a while! We just toss it when it gets gross looking. This will bring you tons of hours of fun, sensory activities!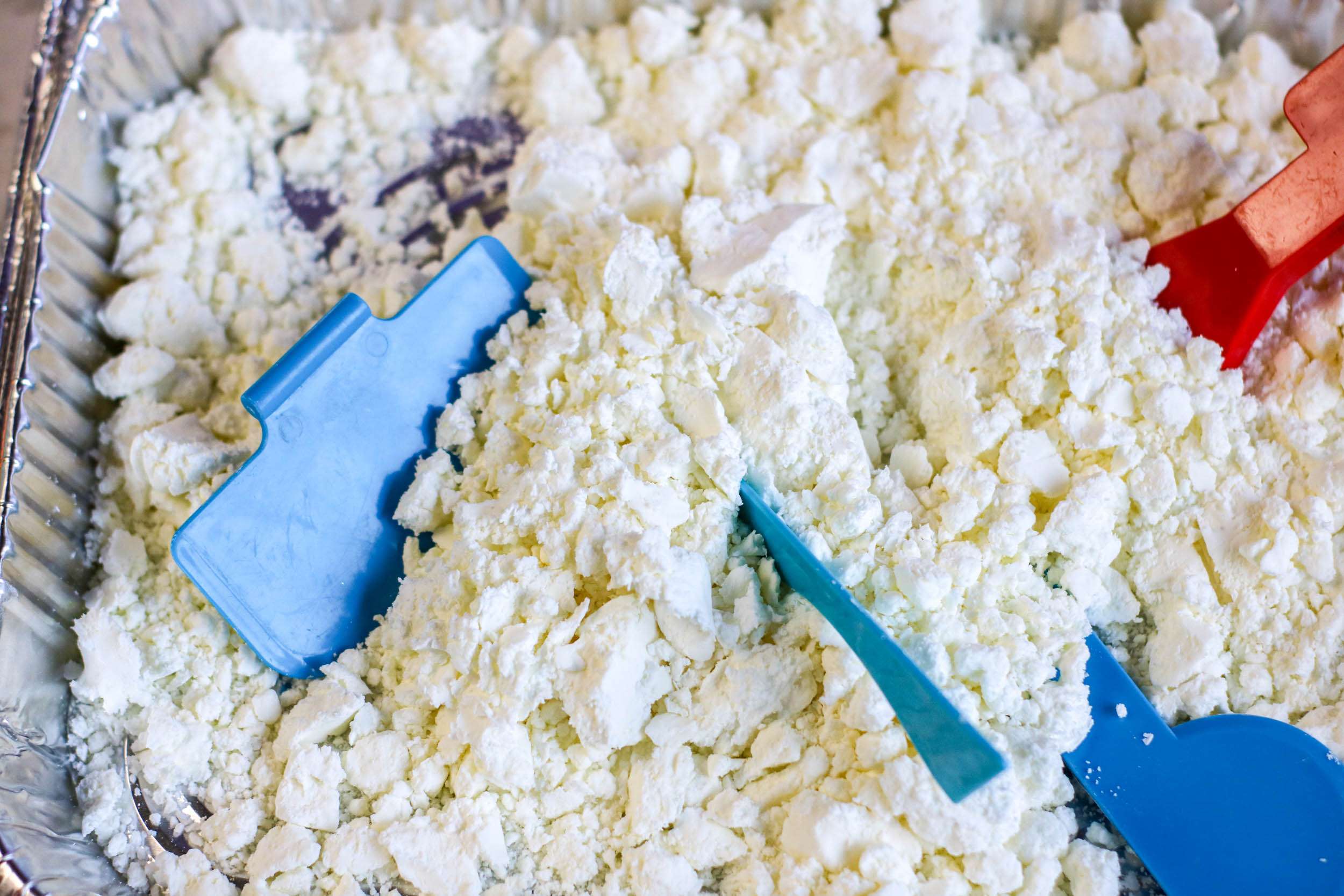 How Should I Store My Cloud Dough?
As I said above, you should store your DIY Cloud Dough in an airtight container. You can buy them on Amazon or just use an airtight container you have already in your kitchen cupboard.
What Are Some Other Cloud Dough Recipes?
There are SO many ways to make sensory play cloud dough! I searched the internet and found the BEST ones to share with you! Check them out, below!
*Apple Pie Cloud Dough: with fall around the corner, this apple pie cloud dough would be awesome to make!
*Hot Chocolate Cloud Dough: Yes, please! Hot chocolate anything and I am all for it and so are my kids!
*Coconut Cloud Dough: This is made with coconut oil and flour so if your little one accidentally devours it, they will be okay! Great for little ones!
*Fizzy Cloud Dough: Now this looks like a LOT of fun! Turn your sensory play into a fun, science experiment!
*Beach Sand Cloud Dough: Bring the beach into your home! This sounds like a great one! Who doesn't love the beach???
About Sensory Play
Sensory play is any activity that stimulates a child's sense of touch, smell, taste, sight, and hearing. Also, engages movement and balance. It is great for fine motor skills. Sensory play is great for easing anxiety and over-stimulation and helps your child relax and unwind.
Who Benefits From Sensory Play?
Of course, kids of any age can benefit from sensory play. However, sensory play is not just for kids. I enjoy playing with cloud dough and other things that feel good to my hands. It really soothes me and lessens any anxiety I may be having at that moment.
Why Is Sensory Play Important?
Children are constantly using their senses to help make the world around them make sense. When children (adults!) use their senses they tend to remember things more clearer and learn better.
By giving children opportunities to use their senses, it helps to build nerve connections in the brain. It is very important to brain development.
Other Examples Of Sensory Play
There are many types of sensory play! The Cloud Dough one is our favorite, but there are plenty of other ways you can do sensory play. Here are a few more ways you can do this:
*Sensory Bottles: Sensory bottles are simply often referred to as 'calm bottles'. They are supposed to help calm a child (or adult!) down simply by looking at them.
*Edible Play Dough: This stuff is not only yummy tasting but is great for sensory play too!
*Salt Painting: Glue and Epsom salts is all you need to create a sensory masterpiece! So fun!
*Squishy Bag of Paint: This is an awesome sensory experience for children because they get to see how colors mix and form other colors without the mess!
*Colorful Rice And Ice: This rice and ice sensory activity allows your child to play with rhyming words (you read a book first!) while exploring and learning about primary color mixing!
*Silky Soft Goop: This goop is awesome! You can pick it up and squish it and then let it flow freely through your fingers back into the container! Kids love this stuff and so do adults!
*Edible Water Beads: Say what?! Yes, these beads are not only great for use in a sensory bin but you can nibble them up too! Haha!
All this sensory stuff is great for learning. With many parents homeschooling right now, this would be a fun activity to do with your kids! Sensory play leads to your child's ability to complete complex learning tasks and will help support cognitive growth such as; language development, motor skills, social interactions, and of course, problem-solving skills.
Have you ever made cloud dough or any of the sensory play items above? Let us know in the comments below!
PIN IT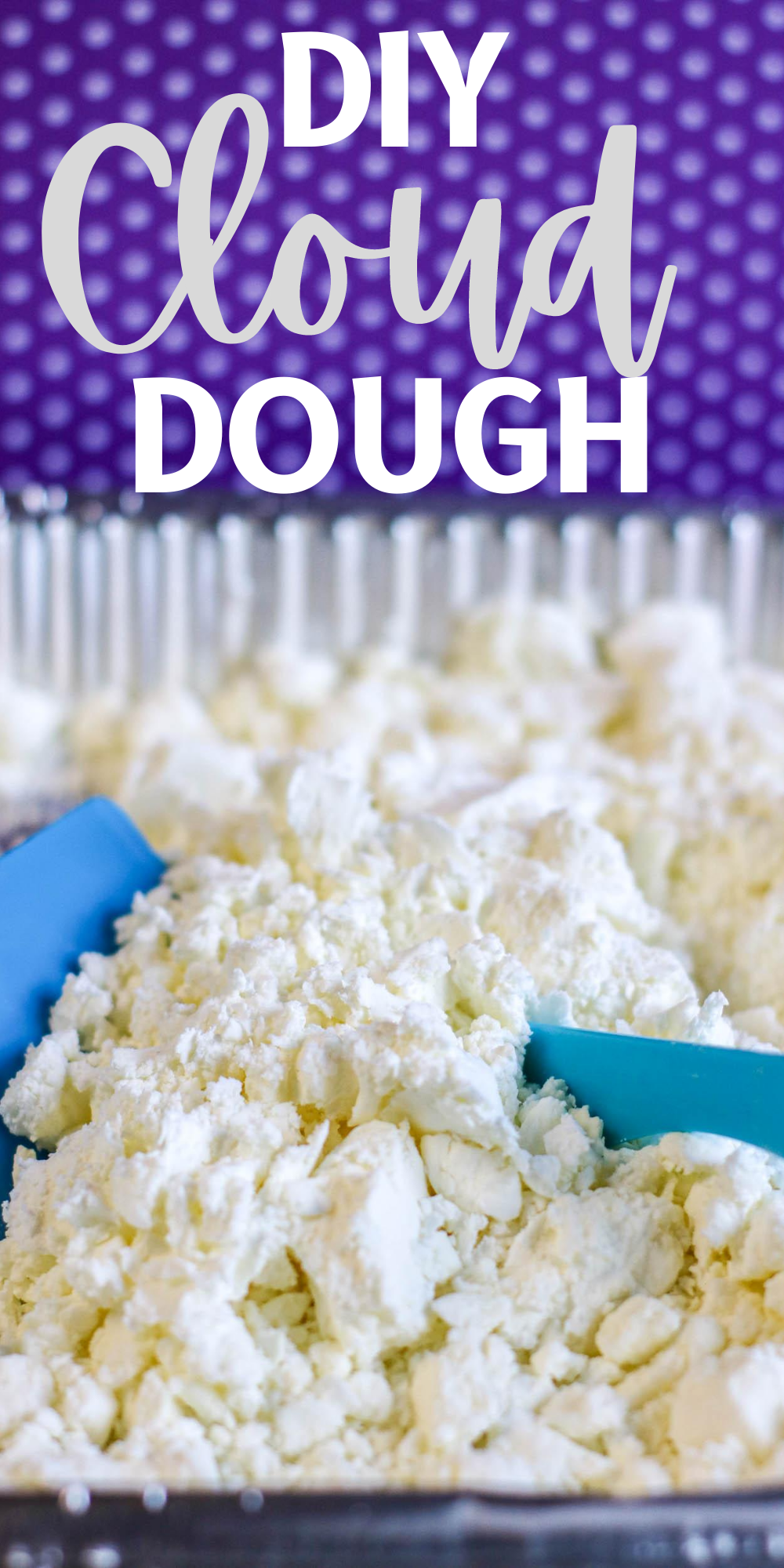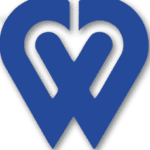 Latest posts by Twins Magazine
(see all)