The best cribs for twins are cribs that will grow with your twins.
OF course, you'll also save a lot of money if you buy a crib that will also be your twin's toddler bed.
All the cribs we recommend will be convertible and will help you save money. After all, you already have to buy two cribs, to begin with.
There are basically three types of cribs we recommend you consider buying if you have twins: the mini crib or the full-size crib and a versatile playard.
Mini Cribs are a Good Option for Twins
The Dream On Me Addison 4 in 1 Convertible Mini Crib
is an excellent mini crib for twins if space is a concern.
82% of customers gave this crib either 4 or 5 stars.
Product Details:
Colors: Comes in 5 Colors
Price: $109.99
Lowest Price: Amazon.com
The main problem with buying mini cribs for your twins is that you then must buy mini crib mattresses, which will limit your options.
The Dream On Me Mini Crib Mattress
is our recommendation for a high-quality mini crib mattress.
If you choose to purchase a mini crib for your twins, remember that you must then also purchase a mattress pad and sheets that fit mini crib mattresses.
This will limit your choice of sheets because most companies do not sell sheets to fit mini crib mattresses.
Convertible Cribs for Twins
Purchasing a crib that will turn into a toddler bed is an excellent option.
Buying two cribs for twins is expensive and before you know it, your twins will need to be sleeping in toddler beds.
Buying convertible cribs for twins from the start will save you hundreds of dollars in the future.
The American Academy of Pediatrics encourages parents of twins to have then each sleep in their own crib. That practice has been shown to reduce the incidents of Sudden Infant Death Syndrome (SIDS).
The Delta Children Emery 4-in-1 Convertible Baby Crib
is an awesome choice. As a 4-in-1 crib, it is the only bed your twin will need for years to come.
Colors: Comes in Dark Chocolate (Shown), Grey, and White
* It is also available as a mini crib. If you have a smaller room for your twins, you may want to purchase two mini cribs.
Price: $189.99
Lowest Price: Amazon.com
Portable Playards Make the Perfect Day Crib for Newborn Twins
During the day, most new moms find themselves spending a lot of time sitting on the couch breastfeeding their twins, resting and recovering from sleepless nights.
Having portable cribs for twins that can easily be brought into the main sitting room will keep you from having to travel back and forth to the twins cribs during the day.
In the beginning, new moms of twins also found the best cribs for twins to be those that fit nicely next to her bed.
The Baby Trend Twin Nursery Center
is our favorite pack-n-play for newborn twins.
It is more than just a portable crib. It comes with an organizational basket and removable bassinets. As your twins outgrow the removable bassinets, they can play safely inside the main crib area.
The main crib area is also a great place for your twins to practice tummy time and explore their hands and feet in an open, safe space.
Product Details:
Price: $249.99
Lowest Price: Amazon.com
★ Two removable rock-a-bye bassinet converts to a standalone rocker
★ Removable rock-a-bye bassinet comes with canopy and carry handle, plush fabric and mesh sides for proper ventilation
★ Flip away changing table and deluxe parent organizer. Use only household mild soap and warm water. Do Not Use Bleach. Do Not Machine Wash
★ One-hand locking mechanism and large wheels with brakes
★ Electronic music center with volume control, nightlight, and vibration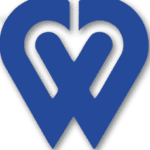 Latest posts by Twins Magazine
(see all)