For many parents of multiples, Valentine's Day can easily become a last-minute consideration. With the hustle and bustle of your crazy life, who has time to think up a perfectly planned Valentine's dinner?
That's why we decided that this Simple Meal of the Week would be a Valentine's Day Edition. Simple, delicious, and family-friendly! 
Valentine's Day One Sheet Pasta Dinner
Ingredients:
1 pound jumbo shrimp, peeled and deveined
1-2 cups cherry tomatoes, rinsed 
1 bunch asparagus, rinsed and ends trimmed
3 cloves garlic, roughly chopped 
Olive oil
Salt and pepper
2 lemons, halved
1 lb linguine (or your favorite style of pasta)
Optional: loaf of fresh bread or a simple salad 
Preparation:
Preheat your oven to 400 degrees Fahrenheit / 200 degrees Celcius. 
Lightly spray a large baking sheet with cooking spray. 
Place the shrimp, tomatoes, garlic, asparagus on the baking sheet and drizzle with olive oil. Season with salt and pepper. 
While that bakes, cook your linguine according to package instructions, strain one al dente. 
Bake 10-12 minutes, until the shrimp is cooked and tomatoes begin to burst.  
Place the halved lemons on the baking sheet during the last 2-3 minutes of cooking. 
Put cooked pasta in a bowl and top with the shrimp and vegetables. Once the lemons have cooled slightly, carefully squeeze the juice over the pasta dish. This is optional but you can top your pasta with shaved parmesan.
Serve with bread or a simple salad. 
Who says that cooking for Valentine's Day has to take all day? With an easy, one-pan meal you can enjoy a restaurant-quality meal in under 30 minutes.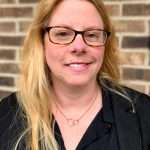 Latest posts by Kristen Fescoe
(see all)