The American Academy of Pediatrics recommends breastfeeding twins whenever possible.​
Breastfeeding twins has many advantages for both the mother and baby.
Breastfeeding strengthens the baby's immune system and reduces the incidence of Sudden Infant Death Syndrome (SIDS). It is also a great way for mother and child to bond.
Breastfeeding twins can seem overwhelming to a new mom, but thousands of new mothers successfully breastfed their twins every day.
These tips will help you to be successful from day one.
1. Get a Lactation Consultant
As soon as you arrive in your Postpartum room after giving birth, ask to see the Lactation Consultant. As a mother of twins, you will be a priority for her.
She will sit with you and teach you exactly how to get each of your babies to latch correctly onto your breast. Learning how to do this from the very first feeding is important.
If your babies do not latch correctly, breastfeeding twins can be painful and your babies will not be able to feed efficiently.
That is the number one reason responsible for issues with breastfeeding twins.
Nowadays all Lactation Consultants receive training on teaching mothers how to breastfeed twins, so she will be able to help you with different positions and issues particular to twins.
2. Find a Lactation Consultant in Your Area
Before giving birth, you may want to find a lactation consultant in your area, so you can make an appointment to see her once you have been released from the hospital. Many will come out to your home to continue to help you after you leave the hospital.
3. Get in a Comfortable Breastfeeding Position.
The position is very important when breastfeeding twins. There are many positions mothers prefer when breastfeeding twins and there is no one right way.
The positions for breastfeeding twins should allow you to relax your back and neck. Your posture of choice should allow easy digestion while the babies suckle.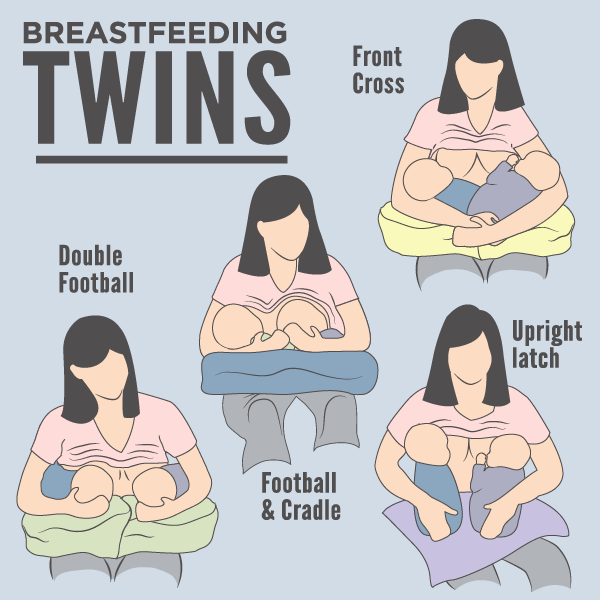 You may find a number of positions helpful at different times. The goal is to try different positions until you find the ones that work best for you and your twins.
4. Get a Comfortable Breastfeeding Pillow
Get a special breastfeeding pillow designed for twins.
The My Brest Friend Supportive Nursing Pillow For Twins 0-12 Months, Plus-Size
is the most useful breastfeeding pillow for twins.
It is soft and provides plenty of room for both babies. The strap is also awesome, as it keeps the pillow in place while you move your twins around and help them latch on correctly.
Colors: Light Green (Pictured), Dark Grey, Light Grey, Fireworks, and Black and White
Lowest Price: Amazon.com
Price: $58.04- $67.99
5. Wear Easy Access Nursing Tops and Nursing Bras.
In the beginning, you will find soft, comfortable 2-in-1 nursing tops with built-in bras to be extremely useful. While you are learning how to nurse twins and your twins are feeding to often, you will find yourself constantly needing to expose your breast to feed. These tops also make it simple to breastfeed both twins at the same time.
Caramel Cantina 3 Pack Women's Nursing Cami Built-in Bra is a great 2-in-1 soft tank top and nursing bra. You can wear it by itself or under another loose top. It comes in many sizes and colors, thus matching everything. You will want to buy at least a few packs of these because in the beginning, milk will leak and babies will spit up on you.
Colors: Black, White and Charcoal (3 Pack), Navy, Burgundy and Teal (3 Pack), Black (3 Pack)
Lowest Price: Amazon.com
Price: $36.99 (Pack of three)
Having plenty of comfortable nursing bras is also important. When your milk supply is first coming in and your twins are learning how to breastfeed, it will messy. You will find yourself often needing to change your bra. You will also need to wear a bra all the time in the beginning because your breasts will leak milk.
Therefore, you will want to have comfortable bras you can wear all day and night.
The 3 PACK Full Bust Seamless Nursing Maternity Bras
with Extenders & Clips is the perfect nursing bra bundle.
We recommend you buy at least three of these packs to get started. The extender will be great right after you give birth before you lose your pregnancy and while your milk supply is adjusting. The clips allow you to connect the two straps in the back to hide them when wear tank tops or other sleeveless shirts.
Colors: Black, Pink & Nude (3 Pack), Nude (3 Pack), Black (3 Pack), Black, Grey & Nude (3 Pack)
Lowest Price: Amazon.com
Price: $36.99 (Pack of three)
6. Start with One Twin at a Time
As a new parent or one who is having your first pair of twins, it is advisable that you start gradually, with a twin at a time to the breast.
Once each twin is latching properly and you feel comfortable, start trying to feed the other twin at the same time.
Be patient with yourself and know you will master breastfeeding twins at the same time. It is a skill like any other and simply requires practice.
7. Use a Breastpump Only When Necessary
Before you consider using a breast pump, be sure it is needed.
Mothers panic, saying their breasts don't produce much milk and they are afraid they are not making enough for the twins.
it takes a few days for your milk to come in. The most effective way to establish a strong milk supply is to latch them properly and encourage your twins to feed often.
The woman lactation process actually generates more milk with the demands placed by the suckling mouth(s). Breast pumps are just not as effective at expelling milk from the breast.
In the early days, encourage your twins to breastfeed often. These early days will determine how much milk your body makes. It is a supply and demand system established during the first days. That is also why learning how to latch your twins on is so important from the beginning.
So, before you go for a pumping aid, be sure you need it.
When it is time to begin pumping, we recommend you use the Medela Pump in Style Advanced Double Electric Breast Pump with On the Go Tote.
It is an awesome all-in-one system.
Medela is the most well-known and recommended brand on the market. All of their products come with a lifetime warranty and their service department is excellent.
While the bag this breast pump comes with may not be your first choice, this bundle is a great deal and has everything you will need to immediately begin pumping.
Lowest Price: Amazon.com
Price: $190.93
8. Alternate the kids to the breast
Each of the twins might have different appetite and sucking behavior.
Therefore, alternate which twin feeds from each breast with every feeding. A great way to remember which twin fed from each breast is to wear a simple bracelet or hair tie on your wrist. Assign the hair tie to Twin A. After you have completed breastfeeding your twins, move the hair tie to the other wrist. This will tell you that Twin A should feed on that breast during the next feeding.
9. Get Rest
You need as much rest as you can get.
When your newborn twins are sleeping, you should sleep, as well.
Ask friends and family members to keep up with the daily tasks around the house.
In the early days, your task is to heal your body from birth, breastfeed and care for your new twins. That is a full-time job. Everything else can wait.
10. Ask for Help
Neighbors, friends, co-workers, and family are great helpers in the early days. Don't be afraid to ask for help.
Hiring a Postpartum Doula is also an excellent choice.
Postpartum Doulas can help you care for your newborn twins, clean your house, cook and help organize the help of others in your life.
11. Eat and Drink Frequently
Think of your body as just recovering from running a marathon.
Labor is exhausting and you have lost a lot of blood. Now you are trying to make food for two little people.
Allow yourself to eat foods you are craving. Your body may need more salt, protein or fats to recover.
In the early days, we drank lots of Ensure High Protein Nutrition Shake
with 16 grams of high-quality protein, Meal Replacement Shakes.
We loved them because they did not contain milk and thus did not need to remain refrigerated. We kept them on our nightstand and drank them during the night when we woke up hungry.
Product Details:
Flavors: Chocolate, Strawberry, and Vanilla
Price: $31.94 for 24 8oz Bottles
Lowest Price: Amazon.com
Drinking lots of water is one of the best ways to ensure your body will produce enough milk.
Breast milk is composed of 90% water.
During birth and for days after giving birth, your body will lose a lot of blood. Blood is composed mostly of water. Therefore, you will likely be extremely dehydrated.
One of the biggest factors that will affect your milk supply in the early days is your water intake. This is a crucial time as your body is figuring out how much milk to make for your twins. If you are severely dehydrated in the early days, your body will not establish the correct amount of milk supply.
You will probably notice that soon after you begin breastfeeding your twins you will become thirsty. The oxytocin that your body releases during breastfeeding is responsible for triggering your thirst. This is your body's natural way of ensuring that you are getting enough water to make breast milk.
As soon as you can, begin rehydrating your body. This can easily be done simply with water. During breastfeeding one baby, you should drink an extra quart, or 32 ounces, per day.
12. Start Preparing Before Your Twins Arrive.
Preparation is key. Create a plan now to ensure you will have all of the tools and people in place when your twins arrive.
Don't be afraid to ask for help. People who love you will want to feel needed and your twins will benefit from it, as well.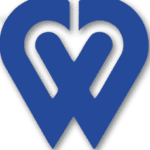 Latest posts by Twins Magazine
(see all)